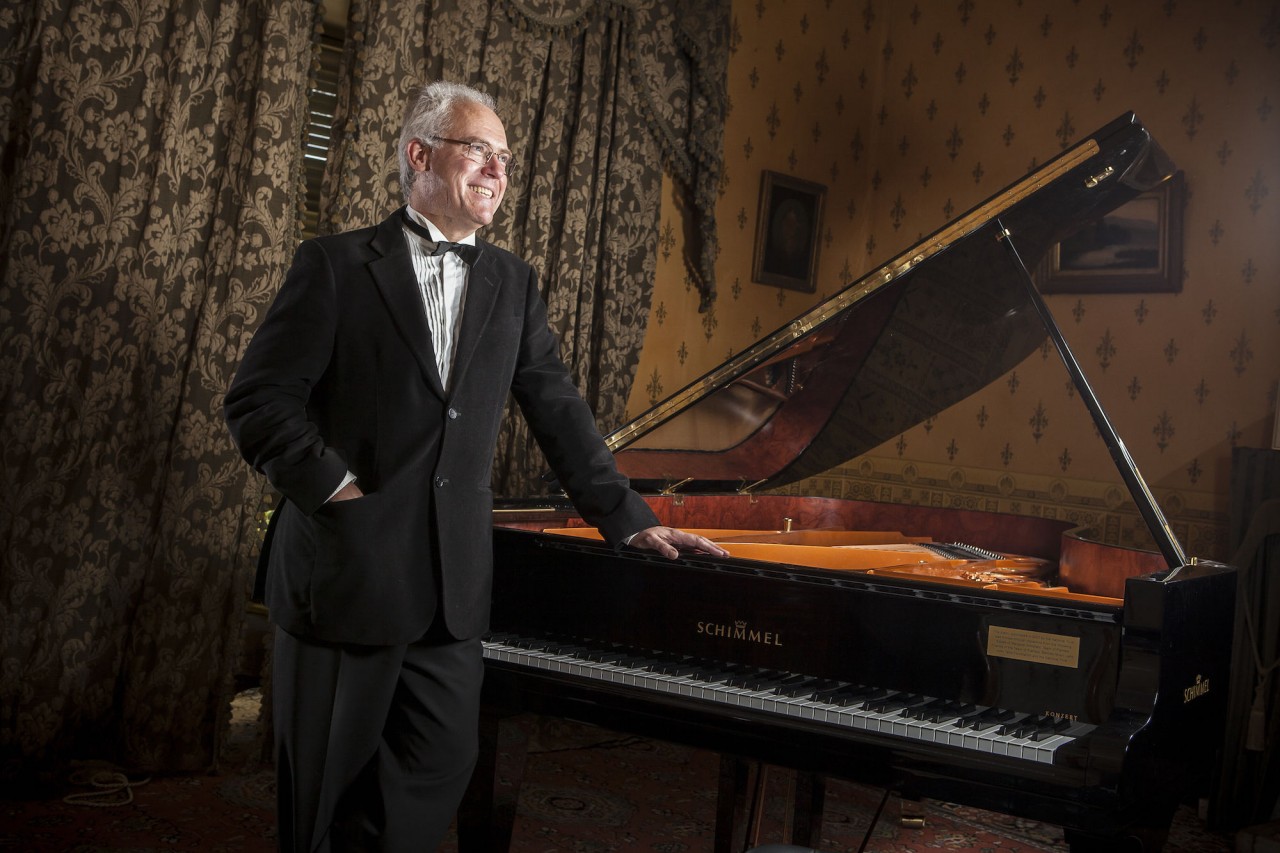 ROBERT CHAMBERLAIN is a versatile and accomplished pianist, with interests ranging from period performance to contemporary music and with specialisations including chamber and ensemble music. He studied for Bachelors and Masters degrees in Australia under Max Cooke, in Vienna as a winner of the Apex/Robert Stolz Scholarship, and also at the Banff Centre for the Arts, Canada.
He is in national and international demand as an adjudicator and a presenter, and in 2012 was a jury member of the inaugural Ars Nova International Piano Competition in Singapore and the 2012 ANZA Modern Piano and Violin Competition in Bangkok, Thailand. He has also judged for Malaysian Youth Music Festivals on numerous occasions and in 2011 adjudicated the West Australian Pianists Competition in Perth as well as local Festivals and Eisteddfods.
From 2004 to 2013 he developed and directed the Team's annual Spring Piano School, an intensive enrichment school-holiday program for school aged pianists aged from 6 to 18, which attracts young pianists and teacher observers from Victoria, interstate and overseas.
Concert engagements have taken him to Turkey, Malaysia, Brunei, Thailand, Canada, as well as around Australia. 2011 engagements included four recitals with visiting young Danish violinist Benedikte Daamgard, concerts with soprano Louise Page, with flautist Derek Jones, and a recital in Canada with soprano Chantal Dionne in the Été musical 2011 summer series in French speaking Canada. 2012 concerts included two piano music with Team of Pianists colleague Darryl Coote at Rippon Lea, chamber music with Sydney Symphony Orchestra friends Marina Marsden and Justine Marsden at Rippon Lea in Melbourne and in Sydney, and Preludes and Fugues from Bach's Well Tempered Klavier Book 1 at Glenfern in Melbourne, in Canberra and in Perth.
Other collaborations have included period instrument performances of Brahms with clarinettist Craig Hill, four years in a piano, violin, cello trio, presenting the Australian premieres of contemporary works as well as mainstream piano trio repertoire, collaborations with chamber groups including the Hamer String Quartet and members of the Flinders Quartet and of Quartz, and with instrumentalists such as flautist Megan Sterling (Hong Kong Philharmonic), saxophonist Jason Xanthoudakis, clarinettists David Griffiths and Phillip Miechel, and with vocalists such as sopranos Emily Xiao Wang and Michelle Marie Cook and Louise Page. For many years he has performed and recorded two piano repertoire with Team of Pianist's partner Darryl Coote, most recently Spanish and Spanish influenced works for two pianos by Manuel Infante and Maurice Ravel on the Team's latest CD New Norcia – A Spanish Rhapsody.
Robert has also recorded on 15 other CD's for a number of labels including Tall Poppies, Naxos, Move Records and VoxAustralis. As a scholar he has edited, with violinist Marina Marsden (Sydney Symphony Orchestra), a critical edition of Australian composer Margaret Sutherland's Sonata for Violin and Piano (Currency Press, 2000), which they also recorded on the Tall Poppies label. He has also written articles and reviews.
He is on the piano faculty at the Sir Zelman Cowen School of Music at Monash University, and in 2019 filled a temporary 12-month role as Co-ordinator of Piano in that school. In 2011 he led a concert and study tour to the nation's capital Canberra for some of his Honours and Masters piano students from the Monash Universtiy School of Music. He has taught children of all ages, as well as adults. Robert is also using his YouTube Channel to share, with his students and others, insights and approaches to the teaching, learning and performance of some piano repertoire and technical work.
As well as performing, he gives masterclasses and workshops to teachers and students in Universities and music schools in Australia and in South East Asia. His current research interests and presentation topics include teaching and learning processes in piano teaching and performance, creativity in piano pedagogy, and style and technique in piano performance. A paper on creativity and piano teaching, presented at the 2015 Australasian Piano Pedagogy Conference, may be accessed here or from the 2015 APPC Proceedings Website, and an article about the world of the digital piano here. View Robert Chamberlain Academic CV.
Upcoming Events
2021 Rigg Bequest Classic Music at Glenfern - Concert 6
A Musical Flower-Garden for clarinet, cello & piano
Robert Schubert (clarinet), Josephine Vains (cello), Robert Chamberlain (piano), in a varied and highly contrasted program of chamber music, ranging from the Baroque conversational sensibility of J S Bach's Gamba Sonata in G, performed on modern instruments, through the Romantic exuberance of Bruch's pieces for clarinet, cello and piano, to the brooding passion and end-of-century energy of the little known Trio Op. 3 by Zemlinsky! Plus works by Australian composer Julian Yu and an amusing selection from Hindemith's Musikalisches Blumengartlein und Leyptziger Allerley for clarinet & cello.
With one performance of this program at 3.00pm and another at 6.30pm, you can choose to be part of a small socially-distanced in-venue audience at either performance, or enjoy the 6.30pm performance as a live-streamed recital from the comfort of your own home!
Date and Time
Due to Melbourne's lockdown,
this event is now postponed to a date in 2022 (tba)
3.00pm or 6.30pm (for audience in-venue attendance)
Glenfern, 417 Inkerman St, East St Kilda, VIC
or
6.30pm (for the Live-Stream via YouTube)

Book here for Audience In-Venue Attendance
Book here for Digital Livestream Online Viewing (via YouTube)
Downloads