Pianomania!: The Team's Tribute to Max Cooke
A showcase concert programme, sponsored by the
C & C Rigg Bequest
,
Friends of the Team of Pianists (FOTOPS) Committee
,
Bernies Music Land
and
Teska Carson
, featuring works for 2, 4 and 8 hands at one and two pianos!

Tuesday May 24, 2022 at 6.30pm

Pianomania!: The Team's Tribute to Max Cooke
Join us for a night of celebration at the Rippon Lea Ballroom with two grand pianos and four pianists! All three Team of Pianists partners - Rohan Murray, Darryl Coote, Robert Chamberlain plus a very special guest - Kevin Suherman will perform a specially devised programme, in honour of the life and work of Max Cooke:

Mendelssohn - Hebrides Overture (Fingal's Cave) arranged Hermann for 8 hands at 2 pianos Beethoven - Piano Sonata in C# minor, Op. 27 No. 2, "Moonlight" (Kevin Suherman) Rachmaninoff - Suite No. 2 for 2 pianos (Darryl Coote & Robert Chamberlain) Bizet - Jeux d'Enfants (selection) piano four hands (Rohan Murray & Robert Chamberlain), Smetana - Rondo for 8 hands at 2 pianos
As well as the performances there will be:
a welcome address from a FOTOPS Committee member,
a spoken tribute to Max Cooke in the presence of his family,
the official launch of a limited-edition CD featuring Max Cooke's September 1983 recording of Brahms' Waltzes Op. 39 and Fantasien Op. 116, your copy of this new CD is included in the admission price,
canapes served at 6.30pm to 6.55pm, kindly sponsored by the Friends of the Team of Pianists Committee, and
display and sale of the special FOTOPS Hammer Memorabilia - individually mounted and framed hammers from Max Cooke's final Bösendorfer grand piano, as used by so many of his talented protégés.
Full price tickets ($80) also include complimentary FOTOPS membership until the end of June 2023. Discount tickets ($65) are available for current financial members of FOTOPS. In addition, if you are not already a FOTOPS member and you sign up on the evening of the concert, your membership will extend until June 2023! (This offer does not apply to current members who are renewing). A cash bar will be available before the recital and during the interval.
Book for this special gala event
Schedule for the evening:
6.30 - 6.55pm - Canapés and cash bar
7.00pm - Welcome address, recital commences
7.45 - 8.15pm - Interval and cash bar
8.15pm - CD Launch, tribute to Max Cooke, recital second half continues
9.00pm - Recital concludes and cash bar service continues until 9.30pm (no cash bar service while music is being performed)
Venue : Rippon Lea Ballroom

192 Hotham Street, Elsternwick
Off-street parking in the grounds from 6pm.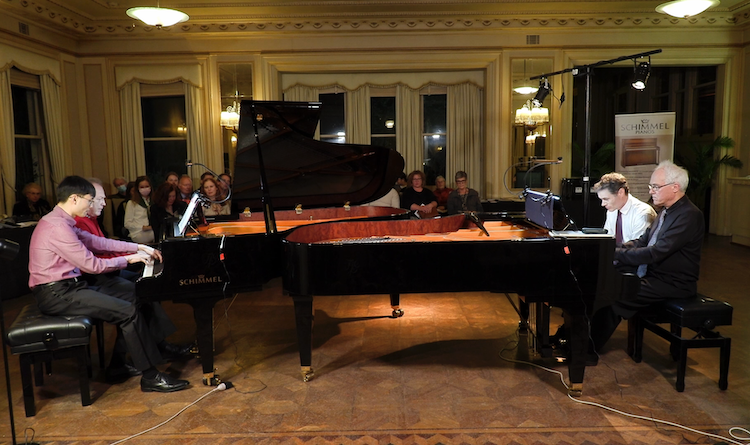 Book for this special gala event
Vaccinations and Conditions of Entry to Rippon Lea
Victorian Government, Showtime Entertainment Group and National Trust regulations will apply for audience members at this event. This will include vaccination check requirements, including for those over 18 years, showing your COVID-19 vaccination status (or a valid medical exemption certificate) at the venue door. It is possible that QR code check-in and the wearing of masks would apply also, if required by government regulations at the time of the event. For full details of vaccination requirements and conditions of entry please see Rippon Lea Estate Visitor Safety and National Trust COVID-19 Information.
"...chamber music as it was intended..."
Upcoming Events
Classic Music in Historic Venues 2022-2024
supported by the Colin and Cicely Rigg Bequest
We are excited to announce a new two-year series of Classic Music in Historic Venues (2022-2024) supported by the Colin and Cicely Rigg Bequest, adminstered by Equity Trustees. With the conclusion of Pianomania! and our 2020/21 Rigg Bequest series, we are now developing this exciting new project, featuring outstanding artists and attractive concert programs in a range of metropolitan and regional historic venues. With the first concerts in forthcoming months, keep an eye on this website as this project takes shape.
Downloads