Piano Masterclasses
Darryl Coote, Max Cooke and Robert Chamberlain have organised Piano Masterclasses given by many international interstate visiting teacher/performers, including: Professor Thomas Hecht from the Yong Siew Toh Conservatory of Music/National University in Singapore (2004), Margaret Hair from Sydney (2004), Professor Akira Imai from the Kunitachi Academy in Tokyo (2005), Professor Rolf Plagge from the Mozarteum in Salzburg (2006), Helen Krizos from the Royal Northern College of Music in Manchester (2006), Professor Roy Howat from the Royal Academy of Music in London (2007), Professor Michael Leuschner from the Musikhochschule in Freiburg (2008), Professor John Damgaard formerly Assistant Professor at Royal Danish Conservatorium, Denmark (2010), Professor Roger Lord from the University of Monckton (2011), Graham Fitch from London (2012) and Jocelyn Ho - New York based winner of ANPA (2014).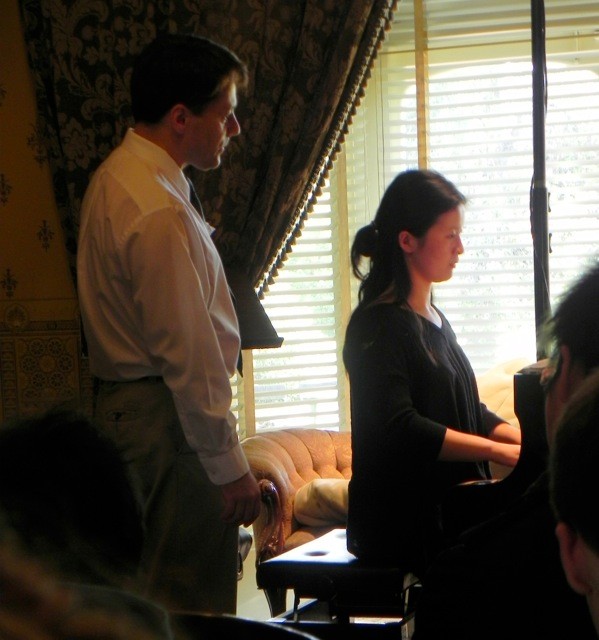 Upcoming Events
2021 Rigg Bequest Classic Music at Glenfern - Concert 6
A Musical Flower-Garden for clarinet, cello & piano
Robert Schubert (clarinet), Josephine Vains (cello), Robert Chamberlain (piano), in a varied and highly contrasted program of chamber music, ranging from the Baroque conversational sensibility of J S Bach's Gamba Sonata in G, performed on modern instruments, through the Romantic exuberance of Bruch's pieces for clarinet, cello and piano, to the brooding passion and end-of-century energy of the little known Trio Op. 3 by Zemlinsky! Plus works by Australian composer Julian Yu and an amusing selection from Hindemith's Musikalisches Blumengartlein und Leyptziger Allerley for clarinet & cello.
With one performance of this program at 3.00pm and another at 6.30pm, you can choose to be part of a small socially-distanced in-venue audience at either performance, or enjoy the 6.30pm performance as a live-streamed recital from the comfort of your own home!
Date and Time
Due to Melbourne's lockdown,
this event is now postponed to a date in 2022 (tba)
3.00pm or 6.30pm (for audience in-venue attendance)
Glenfern, 417 Inkerman St, East St Kilda, VIC
or
6.30pm (for the Live-Stream via YouTube)

Book here for Audience In-Venue Attendance
Book here for Digital Livestream Online Viewing (via YouTube)
Downloads