Friends of the Team of Pianists
An Invitation from the President of the Friends of the Team of Pianists...
The aim of the Friends is to support the Team of Pianists by directly assisting the Team, helping to promote its activities and building membership of the Friends. Members receive discounts for some Team events such as masterclasses and lectures and will be invited to join in social and educational activities organised specifically for the Friends. The Friends also coordinate 'Friends Play for Friends', a group of members who are pianists who get together informally in members' homes to perform for each other. There are opportunities to meet the Team and other performers plus regular newsletters.
New members receive a free CD featuring recitals from the biennial Australian National Piano Award in Shepparton.
To join the Friends of the Team of Pianists, please print the FOTOPS Membership Form, fill in the tear-off slip and mail to the following address:
Secretary
Friends of the Team of Pianists
PO Box 333
Balaclava VIC 3183
For further information, please send an email to: friendsoftop333@gmail.com or talk to one of the committee members at a Team of Pianists event.
Committee of the Friends of the Team of Pianists:
Dr Deborah Jackson (President)
Louise Gomes (Vice-President)
Gerry Roberts (Treasurer)
Ray Jacobs (Secretary)
Rhonda Boyle
Teri Brugman
Clive Jackson
Yani Lam
Maria Walshe
Regular Newsletter for Members
Feel free to download some samples from the list below: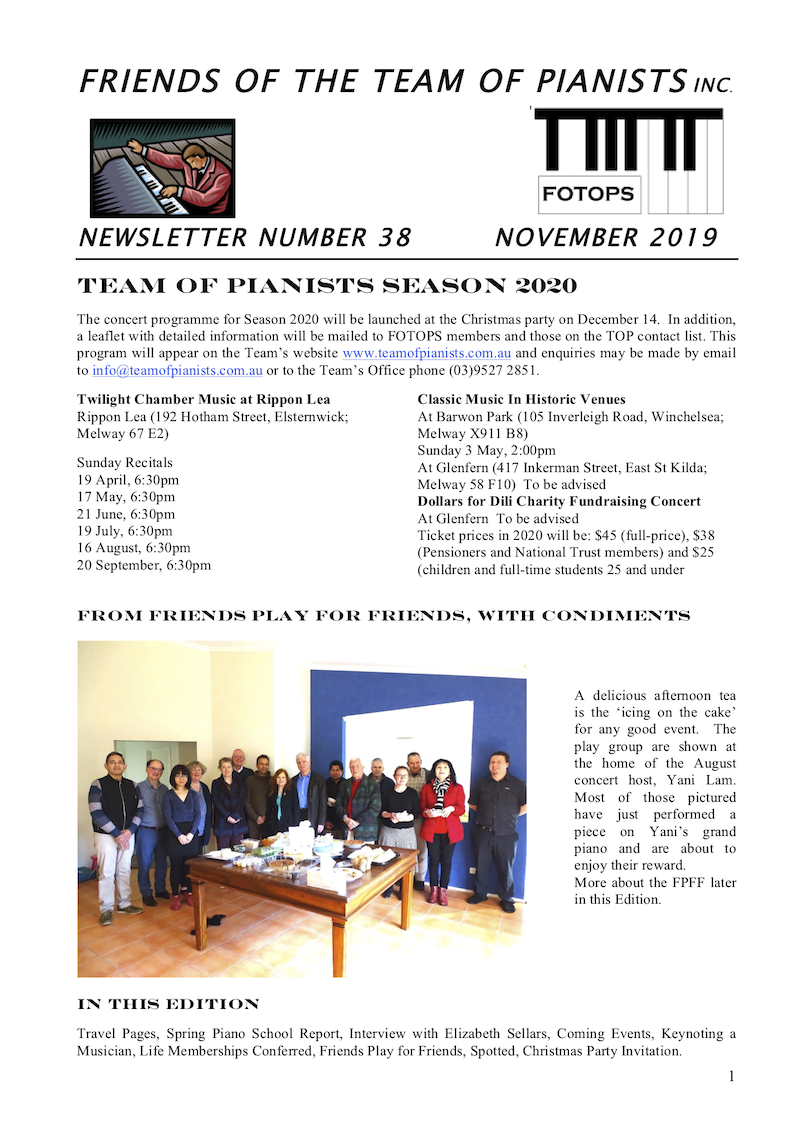 Upcoming Events
Spring Piano School 2020
will not take place this year
Due to the pandemic, we have decided not to run a Spring Piano School in 2020. This program normally takes place at the National Trust historic house Glenfern, in East St Kilda, where piano students currently at Primary or Secondary school and aged 8 to 18 years enjoy a program of piano classes, workshops and individual lessons with teaching staff that include experienced pianists and teachers from the Team plus special guests.
You can see more about the most recentSpring Piano School here or read reports about some previous educational events here
September, October Concert Postponements due to COVID-19
Dear Music-Lovers and Supporters of the Team of Pianists,
Due to the corona virus situation, the final two recitals in our 2020 series must, unfortunately, be postponed:
Sunday September 20 at 6.30pm - Twilight Chamber Music at Rippon Lea
Sunday October 11 at 3.00pm - Glenfern
Our hope is to reschedule these events to dates after the corona-virus pandemic has passed. For supporters who have already purchased tickets for these concerts please click here for an earlier email which explains the options for a refund, for credit to future events or for full or partial donation.
Do keep an eye on this website - we hope to hold two more live-streamed recitals from Glenfern once the lifting of restrictions allows this to happen, hopefully in October/November!

Downloads