Twilight Chamber Music at Rippon Lea
Join us in 2020 for the 27th Season of Twilight Chamber Music at Rippon Lea (major sponsor the Colin & cicely Rigg Bequest administered by Equity Trustees), since 1994 one of Melbourne's longest running and most loved chamber music series. Six wonderful Sunday concerts in the glorious ballroom, from April to September, at 6.30pm.
"...chamber music as it was intended..."
Book for this series
2020 Program
192 HOTHAM STREET, ELSTERNWICK
Parking in the grounds (Melway 67 E2)
All concerts start at 6:30pm (no entry after 6:45pm).

Sunday April 19, 2020 at 6.30pm

Where The Wild Sings Are! - Songs of animals and beasts
ICON TRIO - Justine Anderson (soprano), Vivien Hamilton (mezzo-soprano), Jeannie Marsh (alto) - with Robert Chamberlain (piano)
Enjoy a vibrant ménagèrie of Australian rounds, unaccompanied madrigals (The Silver Swan & El Grillo), delightful songs by Poulenc, Chabrier, Barber, Stravinsky and others, medleys of popular songs, including comedic songs by Flanders and Swann (Mud, Mud, Glorious Mud with audience sing-along). Other composers featured are Richard Rodney Bennett, Tom Lehrer and plenty more! Plus piano works based on animal themes. This concert continues on from a very popular first presentation of this theme from Glenfern, October 2019!

Sunday May 17, 2020 at 6.30pm

Masterworks from Great Traditions
Kathryn Taylor (violin), Gabrielle Halloran (viola), Rohan de Korte (cello), Darryl Coote (piano)
Beethoven - Sonata in G minor for cello & piano, Op 5 No 2
Benjamin - Sonata for viola & piano
Mozart - Piano quartet in G minor, KV 478
Sunday June 21, 2020 at 6.30pm

From Bonn to Votkinsk
Melbourne Capella Chamber Choir, conducted by Nicholas Cowall, with Rohan Murray (piano)
Beethoven - Bundeslied (opus 122
Beethoven - Lieder
Tchaikovsky - Songs
Sunday July 19, 2020 at 6.30pm

Orix Duo
Kevin Suherman (piano), Ye Jin Choi (cello)
Beethoven/Liszt - Symphony No. 3 "Eroica" in E flat major, Op. 55 (Allegro con Brio)
Beethoven - Cello Sonata No. 3 in A major, Op. 69
Janacek - Pohadka (Fairy tale)
Rachmaninoff - Sonata for Cello and Piano in G minor, Op. 19
Sunday August 16, 2020 at 6.30pm

Pianomania! - A Team Showcase
Rohan Murray (piano), Darryl Coote (piano), Robert Chamberlain (piano)
Rachmaninoff - Fantasy Suite Op 5 for two pianos
Rachmaninoff - Suite No 2 Op 17 for two pianos
Bizet - Jeux d'Enfants for piano duet (selection)
Ravel - Ondine
Schumann, arr Liszt - Widmung
Keith Humble - Bagatelles
Sunday September 20, 2029 at 6.30pm

The Sorrows of Young Werther
Elizabeth Sellars (violin), Caroline Henbest (viola), Molly Kadarauch (cello), Rohan Murray (piano)
Mélanie Bonis - Piano Quartet Op 69 in B-flat major
Brahms – Piano Quintet Op 60 in C minor

Book for this series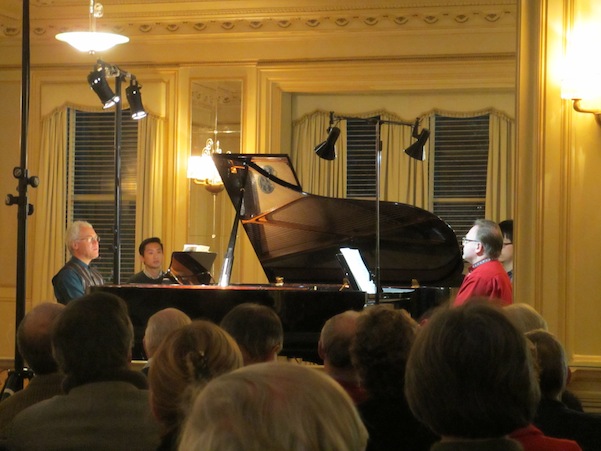 Upcoming Events
Spring Piano School 2020
will not take place this year
Due to the pandemic, we have decided not to run a Spring Piano School in 2020. This program normally takes place at the National Trust historic house Glenfern, in East St Kilda, where piano students currently at Primary or Secondary school and aged 8 to 18 years enjoy a program of piano classes, workshops and individual lessons with teaching staff that include experienced pianists and teachers from the Team plus special guests.
You can see more about the most recentSpring Piano School here or read reports about some previous educational events here
September, October Concert Postponements due to COVID-19
Dear Music-Lovers and Supporters of the Team of Pianists,
Due to the corona virus situation, the final two recitals in our 2020 series must, unfortunately, be postponed:
Sunday September 20 at 6.30pm - Twilight Chamber Music at Rippon Lea
Sunday October 11 at 3.00pm - Glenfern
Our hope is to reschedule these events to dates after the corona-virus pandemic has passed. For supporters who have already purchased tickets for these concerts please click here for an earlier email which explains the options for a refund, for credit to future events or for full or partial donation.
Do keep an eye on this website - we hope to hold two more live-streamed recitals from Glenfern once the lifting of restrictions allows this to happen, hopefully in October/November!

Downloads